ACI Builds Monthly Newsletter Archive
View any past issues of our email newsletter by clicking the issue below. You can be sure to get the newsletters the moment they come out by subscribing. Just fill out the form on the right!
---
Current Newsletter:
ACI Builds: Sept 2019 - Sent 9/25/19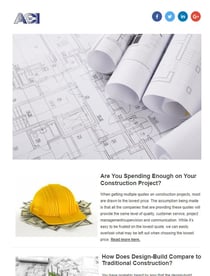 What's in the issue:
Are You Spending Enough on Your Construction Project?

How Does Design-Build Compare to Traditional Construction?

ACI's current projects
ACI Builds: Aug 2019 - Sent 8/21/19
What's in the issue:
Benefits of Contracts

5 Benefits of Recycling Construction Materials

ACI's current projects - Conneaut Valley Health Center, Channel Lock and HBK

Industry Article - "Where Contractors Are Most Likely to Exceed Budget"




ACI Builds: July 2019 - Sent 7/31/19
What's in the issue:
What You Should Know About Payment Terms

Benefits of Using Butler Pre-Engineered Buildings

ACI's current projects

Industry Article



ACI Builds: June 2019 - Sent 6/26/19
What's in the issue:
How to Keep Your Company Open During Renovation

How ACI's Builder Relationships Benefit You

This FREE Program Takes the Pain Out of the Bidding Process

Industry Article
ACI Builds: May 2019 - Sent 5/16/19
What's in the issue:
Inspecting Your Building for Winter Damage

5 Common Construction Industry Myths

Sourcewell (Formerly NJPA): Everything You Need to Know

Industry Article

ACI is Your Local Butler Builder
ACI Builds: April 2019 - Sent 4/17/19
What's in the issue:
The Difference Between Construction Bids and Estimates

How Does Design-Build Compare to Traditional Construction

Industry Article

Free Resources
ACI Builds: March 2019 - Sent 3/13/19
What's in the issue:
5 Benefits of Recycling Construction Materials

How Does Design-Build Compare to Traditional Construction?

Industry Article

Free Resources Page

What Customers are Saying
ACI Builds: February 2019 - Sent 2/27/19
What's in the issue:
5 Things to Have Prepared for Your Initial Design Build Meeting

7 Benefits of Green Building

Industry Article

Free Resources Page

What Customers are Saying